Meloncillo
Algorithms included with the distribution are Vector-Based-Amplitude-Panning, both in the 'normal' forward way which sees the receivers as loudspeaker outputs and the transmitters as moving sound objects to be distributed, and also in an 'inverse' way; binaural convolution spatialiation, using the HRTF library from the IRCAM LISTEN project; Ambisonics using the IRCAM spat~ object. For instance, the forward VBAP can be illustrated in the following signal flow: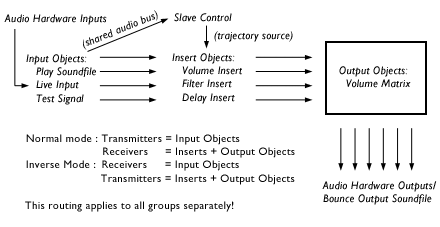 The actual sound output is done by coupling Meloncillo with an OSC aware synthesiser, such as SuperCollider or Max/PD. For offline rendering and trajectory transformations, also CSound can be used.
Further Resources
The project includes some tutorial documentation. If you are interested and capable of reading German, you may also receive the PDF of the thesis, which contains more details of the reasoning, and the programmable interfaces.